DDD Yoga Classes
Mondays
NEW! 3:45 – 5:00 PM | Yoga Bliss Akron | Vinyasa and Meditation (see class description below)
6:00 – 7:00 PM | Yoga Bliss Akron | Gentle Flow 
7:15 – 8:30 PM | Yoga Bliss Akron |  May 6 – June 10 | Beginners' 5-Week Yoga Class Series (no class May 27)
June 17 – July 15 | Beyond Beginners' 5-Week Yoga Class Series | Yoga Bliss Akron
Wednesdays
NEW! 3:45 – 5:00 PM | Yoga Bliss Akron | Vinyasa and Meditation (see class description below)
5:45 – 6:45 PM | Nirvana Yoga | Slow Flow Yoga
Thursdays
10:30 – 11:45 AM | Nirvana Yoga | Slow Flow Yoga
Friday May 17
May 17 | Nirvana Yoga Richfield | 7:00 – 9:00 PM | Embrace Your Inner Goddess Workshop – The perfect gift for Mother's Day
Saturdays
9:30 – 10:30 AM | Beyond Yoga Studio | Hot Basic Flow – through May 25
11:00 AM – 12:15 PM | Beyond Yoga Studio | Slow Flow with Meditation – through May 25
2:30 – 3:45 PM | Beyond Yoga Studio | Beginners' Yoga – 5-Week Series – April 27 through May 25
June 1 | 2:00 – 4:00 PM | Namaste Yoga Studio – Sagamore Hills, Ohio | Embrace Your Inner Goddess Workshop
New Schedule Beginning June 1, 2013
| | | | |
| --- | --- | --- | --- |
|   Day |   Time |   Class Type |   Location |
|   Monday |   8:30 – 9:30 AM |   All-Levels Hatha Flow |   Main Street Beach Vermilion |
|   Monday |   3:45 – 5:00 PM |   Vinyasa & Meditation |   Yoga Bliss Akron |
|   Monday |   6:00 – 7:00 PM |   Gentle Flow |   Yoga Bliss Akron |
|   Monday |   7:15 – 8:30 PM |   Beginners' Series |   Yoga Bliss Akron |
| | | | |
|   Tuesday |   7:30 – 8:30 PM |   Sunset Beach Yoga |   Linwood Park Vermilion |
| | | | |
|   Wednesday |   8:30 – 9:30 AM |   All-Levels Hatha Flow |   Main Street Beach Vermilion |
|   Wednesday |   3:45 – 5:00 PM |   Vinyasa & Meditation |   Yoga Bliss Akron |
|   Wednesday |   5:45 – 6:45 PM |   Slow Flow |   Nirvana Yoga in Richfield |
| | | | |
|   Thursday |   10:30 – 11:45 AM |   Slow Flow |   Nirvana Yoga in Richfield |
|   Thursday |   7:30 – 8:30 PM |   Sunset Beach Yoga |   Firefly Beach in Huron |
| | | | |
|   Friday |   8:30 – 9:30 AM |   All-Levels Hatha Flow |   Firefly Beach in Huron |
| | | | |
|   Saturday |   8:30 – 9:30 AM |   All-Levels Hatha Flow |   Firefly Beach in Huron |
Interested in setting up a Private Yoga Session or Corporate Yoga Classes for your business or organization in the Cuyahoga Falls, Richfield, Bath, Akron, Fairlawn and surrounding communities.  The Daily Downward Dog will work with you to develop a custom program for you or your organization and set up a convenient schedule either before work, during lunch, or to de-stress after work!  Please contact Maria at (330) 289-7026 for more details.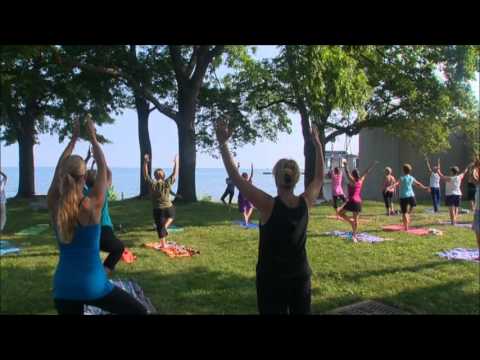 Want to know what it's like to attend a beach yoga class with Maria?
Click on the video link above to get a glimpse into one of the classes.
Beginners' Workshops & Class Series
Yoga Bliss Akron | May 6 – June 10, 2013  | Mondays 7:15 – 8:30 PM (no class Memorial Day May 27)
Beyond Yoga Vermilion | April 27 – May 25 | Saturdays 2:30 – 3:45 PM 
Have you always wanted to practice yoga but didn't know where to start? If you are seeking a series of yoga classes that will demystify yoga and teach the basics in a supportive and fun environment, then join me for this five-class beginners' yoga series! In the series you'll learn about the background of yoga, pranayama (breathing) exercises, step-by-step instruction of the basic asanas (yoga postures) to demonstrate proper alignment and safety. Throughout the series, suggestions for modifications to poses will be presented to ensure that everyone can participate, and we'll review proper use of props and the Sanskrit and English names of the yoga postures. Each class builds on the next, leaving you with a core foundation to start your personal yoga practice. What to bring: A yoga mat, water, and an open beginner's mind. Questions will be encouraged and are welcome throughout the class. Wear comfortable clothing.
Beyond Basics 5-Week Series
Yoga Bliss Akron | June 17 – July 15, 2013  | Mondays 7:15 – 8:30 PM 
This five-week series is perfect for those who have completed the 5-week beginners' series or workshop and for those looking to explore and deepen the spiritual side of their yoga practice. Each class will build on the foundation of the Beginners' Series while adding beginning arm balances, inversions, and more advanced balance, twisting, and standing asanas, all with a focus on proper alignment and quieting the mind. This series will include teachings from the yoga sutras and cover the eight limbs of yoga, with an emphasis on learning how to meditate. Each session will end with a guided meditation practice. Throughout the series suggestions for modifications to poses will be presented, along with proper use of props and the Sanskrit and English names of the yoga postures. Prepare to learn, laugh, relax, and grow deeper in your yoga practice in these highly motivating classes. Class size is limited to 16 students so register early!
Contact the studios noted above to register for classes as space is limited. Or, contact Maria  for more details and to learn how you can schedule either private yoga instruction or yoga classes for your workplace or group.
NIRVANA YOGA – RICHFIELD, OH
Stagecoach Bldg. – 2nd Floor, 4183 W. Streetsboro Rd. (Rt. 303), Richfield, Ohio
Slow Flow Yoga: Learn to coordinate your breath with each movement. Slow Flow Yoga focuses on technique and proper alignment in yoga poses. Great for individuals that are new to yoga, or looking to improve their practice through detailed instruction and lots of attention from the teacher. In this class you'll be with like-minded people who are newer to yoga or who simply enjoy a slower paced class.
3045 Smith Road, Suite 300, Directly Behind Summit Mall
Vinyasa and Meditation: Want to begin or deepen your meditation practice? This yoga class is dedicated to teaching the practice and benefits of meditation. Each class will begin with a seated pranayama (breath) exercise, followed by warm-ups and an all-levels vinyasa yoga practice. The last 15 minutes of class are dedicated to a long sweet savasana and instruction for a quiet period of meditation to help your mind calm and let your body absorb the peace and stillness. The spiritual teachings of yoga will be weaved into class themes to deepen your understanding of yoga beyond the asana practice. Class length is 75 minutes and will be held in the Ganesha (non-heated) studio. All levels welcome.
Gentle Flow: Gentle Flow yoga classes begin with warm-ups and proceed to step-by-step asana instruction, providing you with an active yet gentle practice that focuses on breath work, strengthening of the core and back, stretching, toning, relaxation, and meditation. This class will help you open up areas of tightness, such as hips and shoulders, and get you moving with basic Sun Salutations sequences—always with suggestions for modifications and proper alignment. Perfect for those newer to yoga, recovering from an injury, or that desire a slower paced yoga practice in a supportive and fun environment.
BEYOND YOGA STUDIO
4560 Liberty Avenue, Vermilion, Ohio (440) 967-7775
About Maria Santoferraro
Maria is a graduate of Marietta College and spent the past 25 years ravaging her body in the crazy corporate world. Needing a detox from an unhealthy lifestyle, boatloads of stress, and an aching back, she sought out a healthier lifestyle and went back to the one form of exercise that has always brought her joy and relief—yoga!
The practice of yoga has helped Maria heal her back from the chronic pain she experienced as a result of being diagnosed with scoliosis as a teenager. But more than relieving stress and feeling better both physically and spiritually, it has brought her a new balanced way of living that has enhanced her well-being. Maria's passion for yoga has led her to gain her 200-hour teaching certification from Try4Life and also blossomed into this blog. Over the last few years, Maria has been fortunate to study with Erich Schiffmann, Doug Keller, Max Strom, Rodney Yee, Kathryn Budig, and Cora Wen and will continue her yoga education and journey for the rest of her life.
Maria loves to keep her classes lighthearted and fun while helping to demystify yoga and educate her students on the benefits of yoga both on and off the mat. With a different playlist every week and a variety of uplifting class themes, she keeps her classes fresh and creative. Maria's goal is to share the benefits of yoga for everyone, especially those who think they are too old or too inflexible.
Isn't this poster adorable! My awesome niece made it for me to advertise my yoga classes!
Join our newsletter to keep updated on all new class announcements.
New to Yoga? Check out Yoga 101 on The Daily Downward Dog.