I haven't written much about my 300-hour yoga teacher training, primarily because ever since it began in September of 2014 I have been so immersed in yoga study that there hasn't been time left for writing. It was a 17-month spiritual journey that transformed the way that I live my life both on and off my yoga mat.
On occasion when we would get together for a weekend immersion, my teacher Mary Pat Murphy would put out a deck of intention cards and we each got to pick one. I always like this kind of exercise because it's like reading a fortune cookie message. The cards are a lot like life, sometimes they give you the perfect affirmation, and sometimes it takes you a while to figure out what the universe is trying to tell you.
As I was looking back though my journal I kept during the program and the intention cards I picked, I realized that they tell the story of my journey and I'd like to share it with you.
One of the very first cards I selected was Ease, and it was exactly the message I needed.  I was with a group of yoga teachers who I didn't know and we were getting ready to dive into anatomy and that subject can be challenging for me. I was feeling a little intimidated in my new environment and when that happens I can let fear get the best of me. The message of EASE was exactly what I needed to remind me to approach the tough stuff with love in my heart, to slow down and move gently, with peace and ease in my mind. I can't tell you how much this approach of ease has helped me this year to get though challenging times. When fear starts to bubble up, I remember to approach the situation with ease.
Next came Oneness. What an awesome affirmation to get during yoga teacher training. To me, this is the ultimate goal of yoga. To let go of the ego and the thought that we are different from others. To quiet the mind and realize a state of being that is united with all beings, with all that is in the universe. A state where one finds perfect harmony and peace.
"Peace comes within the souls of men when they realize their oneness with the Universe, when they realize it is really everywhere, it is within each of us." – Black Elk
One of the messages I received while I was walking the Peace Labyrinth during my Aruba retreat last year was that I always need to remember that when I teach yoga, it is never about me, it is always about serving and loving my students. It is about ONENESS and this is an intention I will always practice.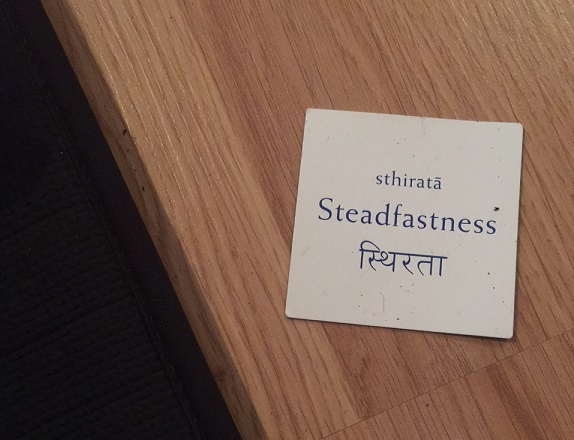 Oh baby, did I need this affirmation! Each of us in the program got to pick a topic of yoga study to take a deep dive into. After our research was completed we pulled it all together into a formal presentation that was delivered to the group. My topic was yoga for menopause. I pulled this card when I was deep into the research stage, wondering how I was ever going to find the time to finish my research and pull together my presentation with all the other projects, workshops, and retreats I had on my plate last year. The affirmation of STEADFAST was my message from the universe to keep going, to be unwavering and fixed in my faith that I would accomplish the task, and I did!
I absolutely fell in love with the topic of yoga for women as they approach the stages of peri-menopause, menopause, and post menopause and have utilized all the research to create yoga workshops on this topic. I'm thrilled to be presenting a WOW Yoga (Women of Wisdom) workshop at the Sedona Yoga Festival in March and will be scheduling additional dates for the workshop this year.
Woo Hoo! I picked this card the weekend that I gave my special topic presentation, and it was the perfect little kick in the ass to remind me to let go of self-doubt, and to deliver my presentation with confidence and strength. This card also came near the end of 2015 and the word FEARLESSNESS resonated so deeply with me that I decided to make it my intention for the year to come. In 2016 I'm letting go of fear and approaching all that I do from a place of love. I have big plans in place and I know that I'll never achieve my goals if I let fear get in the way. I am Fearless is my mantra!
WORTHINESS: having adequate or great merit, character, or value: a worthy successor. 2. of commendable excellence or merit; deserving: a book worthy of praise; a person worthy to lead.
This was the card I picked the very last weekend of training. It made me cry. Part of the reason I decided to go on the 300-hour YTT journey was to deepen my knowledge of yoga, but also so that I would feel confident and prepared to help and serve my students. I will never stop studying yoga, I will always be a student, but this card was a beautiful affirmation that I am a teacher worthy to lead others on their yoga journey.
With my teacher Mary Pat Murphy
I will always be grateful to my teacher Mary Pat Murphy and also Jolynn McFerren and Ruth Zito, who assisted in the program held at Namaste Yoga Studio (Namaste offers both a 200 and 300-hour YTT program). It was an incredible journey and I highly recommend this program to yoga teachers who want to take the next step on the path to ease, oneness, steadfastness, fearlessness, and worthiness.
To all my friends and family, thank you so much for being so patient with me. I missed out on some things this past year, but it was all worth it. I also missed sharing my inspiration on this blog, so stay tuned, I have a lot of catching up to do. To stay posted on my upcoming yoga classes, retreats, and workshops, please sign up for my newsletter (you'll find the widget to sign up on my home page), and follow me on Instagram, Facebook, or Twitter for lots of fun pics and inspiration.
Click to find out more about upcoming Daily Downward Dog yoga retreats! Come join us!